Top Questions to Ask Event & Wedding Photographers
Categories: Uncategorized
There are hundreds of questions that potential brides and grooms ask me as we get to know each other. First and foremost, I recommend viewing several portfolios/blogs before meeting with any photographers. It's important to determine what style of photography you gravitate towards, and find photographers that fit that ideal. Aside from many of the obvious inquiries (cost, date availability, what's included in each offered package), here are some of the most important questions
you should ask your potential wedding photographer: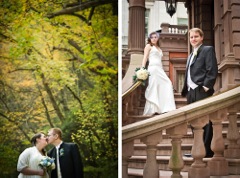 How much wedding experience do you have?
I speak with some bias, certainly, but your wedding photos are no place to cut costs. The more established and experienced your photographer, the better your photos and overall photography experience will be. While hiring a seasoned pro is certainly going to be more expensive, the resulting product will be far superior. Having shot weddings for more than five years, I find that I'm often much more than a photographer at most weddings. It's important for your photographer to anticipate
events and problems, be prepared for a wide range of lighting situations, manage mini crises that might arise, and bring expertise to make sure everything runs smoothly.
What photography style do you work in primarily?

It is incredibly important that your photographer's product appeals to your aesthetic and the idea you have of your wedding day. Most pros keep an eye on the trends and should be able to cater to your preferred style, but it is important to see examples of the kind of work you'd like your own wedding shot in. Over the last few years, photojournalistic pictures have become very popular. In a more photojournalistic shoot, the photographer captures candid events as they happen without a lot of posing. That said, some people prefer more traditional photographs
where most of the photos taken are posed. Most professional photographers are able to combine both styles very well. It is important to familiarize yourself with the different types of photography before you go shopping so you know what style you like.
Can I see your images from a full, finished wedding?

Most photographers post highlights from weddings in their portfolios and blogs, leaving a majority of the photos out of these collections. While these images are their best and brightest, it is a good idea to see how they handle the rest of the wedding day, including low light situations, family portraits, reception events, etc. To get a good idea of how your potential photographer handles a wedding from start to finish, she if he or she will show you a full wedding take.
Are you the photographer that will shoot my wedding? How many
photographers will shoot my wedding?
Many photographers work with associate shooters, so it is important to verify who will be present on your wedding day. On top of your primary shooter, many photographers work with assistants and second shooters. A second shooter can capture additional angles and events that I can't catch as a single person, and assistants help to keep the shooting on schedule and running as smoothly as possible. This means that (skilled, attentive) second shooters have an eye on details the groom's tie and mom's boutonniere to make sure everything is straight while we're running around taking family portraits. A second shooter or assistant is
definitely an added bonus on your wedding day.
What rights will I have to digital images?

In the digital age, we have come accustomed to viewing photos on computers rather than in printed forms. While I absolutely recommend purchasing a wedding album (a post for another day!) it's important for you to understand what rights you will have to your digital images. You will want to know specifically if you will be allowed to copy, print, and share your images, and what limits your photographer might put
on those rights.
Are you insured?

Any pro worth their salt will have liability insurance to cover themselves, their equipment, and any damage that might be caused by either. Imagine Uncle Albert tripping on tripod and breaks his wrist—liability insurance will provide the appropriate protection. Wedding venues often require a copy of the insurance certificate anyway, but it's going to be a great peace of mind for you to be sure either
way!
As a final thought I remind you to always, always read your photography contract thoroughly to confirm payment and cancellation policies, completion times, and other technicalities of your photography contract.
Klover Events is pleased to welcome guest blogger, Melissa Kelly. Formally trained as a photojournalist, Melissa has been shooting weddings since 2005, and works out of suburban Philadelphia and the greater metro area (NY to DC). When she's not shooting (which feels like never), she's reading tween novels or cooking dinner with her husband. Visit www.melissakellyphotography.com for more information.